Translators need time off too
Wednesday 23 December 2015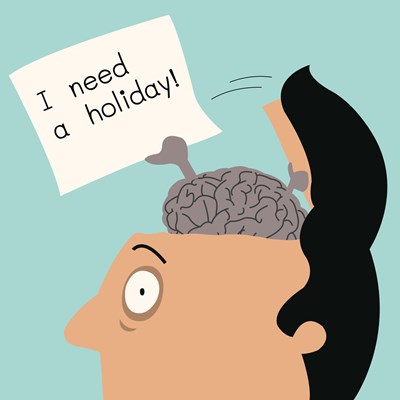 Running your own business is challenging at the best of times. With the added pressure of losing a couple of weeks over the festive season, being a freelancer or self-employed translator can suddenly seem like you have to fit a whole month's work into a much shorter time-frame.
Many translators and interpreters operate on a freelance or self-employed basis so we have compiled the following reasons as to why it is really important for your work, your clients and for you to take a break during the holidays.
Reasons to take a break
You haven't had a holiday in years
Sometimes, if you work for yourself, it can be years before you get the chance to have a break. Having no-one to pass work on to and no holiday pay, means many self-employed translators work all hours, all days. Be kind to yourself, and take a well-earned rest.

Refresh your creativity
Taking a break means you can put some distance between you and your work. Crucial if you want to keep your creativity flowing. If you are too close to your work all of the time, there is a real danger that you will begin to produce the same level of work over and over with no inspiration, growth or new ideas. Taking a break will give your brain the break it needs to regroup. It will provide the distance you need to see your work through fresh eyes and enable you to build a better business.

Reboot
It has been unequivocally proven that stress can lead to health issues. The simple truth is, if you do not take a break at some point, you may be putting yourself at risk of burn-out. Long hours, lack of sleep and poor eating and exercise habits can all take their toll, so take the time to reboot and your health with reap the benefits.

Delegate
If possible, find a trusted party to hand some work over to. Understanding that no single person can do everything when there are only a limited number of hours in the day is the key to regaining some work-life balance. Delegate jobs that you are comfortable handing over, even if it is just hiring a virtual PA to take the pressure off call-handling for a few days whilst you get some downtime.

Strengthen working relationships
All of the above points will naturally contribute to a stronger working relationship with your valued clients. They will see the benefits of a refreshed you rather than a frazzled you. Unless you are properly rested you won't be able to produce your best quality work, you'll make mistakes (which in translation can be extremely costly) and you won't be able to contribute to meetings as effectively. Check with clients a month ahead if they know of work coming your way so that you can stagger your workload in the run-up to your break, let them know which days you will not be working. Your client with thank you for being proactive and you won't have a last minute panic on your hands.

Strengthen personal relationships
Loved ones of business owners, freelancers and self-employed translators have to put up with a lot. Unconventional hours, heavy workload and financial burden can mean your family don't see as much of you as they'd like and often not the best side of you when they do. Take a break to rebuild the important relationships in your life.

No excuses
It's all too easy to say 'I can't, I have a deadline'. Make the necessary changes in order to facilitate a break and don't make any excuses to get back behind the desk until your scheduled return to work day.
Expert translators RL Translations can translate in any language in any subject. With almost a decade in the industry and a 1500 strong team of translators, contact us for a free quote with your translation enquiry.
Join our community on LinkedIn, Twitter and Facebook too.