The role of the Court Interpreter
Sunday 01 February 2015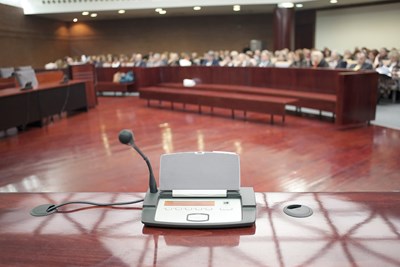 A court interpreter is a fully qualified interpreter who, in the case of a legal trial where the person involved is not a native speaker of the language of the court, is employed to ensure that a mistrial does not occur due to misunderstanding of the case being brought against them.
Article 6 of the European Convention on Human Rights protects an individual's right to a fair trial. A trial can only be fair if the defendant is able to understand the proceedings and any case brought against them; therefore court interpreters are utilised for this purpose.
What is the job of a Court Interpreter like?
It is essential that a court interpreter is able to interpret with 100% accuracy at high conversational speed in a face to face or consecutive situation, they must also know the legal system and the particulars of the specific case. A court of law is a high pressure environment where the court interpreter is not afforded the luxury of working from the isolation of a booth and it is unlikely that a court interpreter would be working as part of a team of interpreters, such as in conference interpreting for example.
Legal cases can last for weeks and the hours can be long but it should be possible to ask the judge for a break if necessary. Most large courtrooms will be equipped with microphones and speakers so that interpreters will not have to shout during interpretation, therefore fatigue can be minimised.
It is common for a court interpreter to be required to be involved in the legal case from the outset, often as early as when they are called to attend the defendant's interview immediately after arrest by the Police. This means that the interpreter may be called upon during the early hours of the morning or at any time of day and be expected to be fully alert, articulate and able to interpret accurately.
As well as being called upon by the Police, a court interpreter may also be contacted by immigration and other authorities when their own interpreters are unavailable.
Sometimes the 'client' of the court interpreter is not as articulate or fluent as might be experienced in other forms of interpretation. The court environment, the nature of the case, fear and uncertainty may also render their language more incoherent making the interpreter's job harder.
Occasionally, court interpreters can sometimes be seen as an ally by their 'client.' However, it is essential that the court interpreter makes it abundantly clear from the outset that they are entirely impartial and seek only to assist in the course of justice, refraining from any form of conversation.
A court interpreter from R L Translations will always be impartial and confidential. They will not add, omit or change anything stated and will only give an explanation where a cultural misunderstanding may be occur, or where there is no direct equivalent for a particular term.
With access to more than 1000 qualified interpreters, R L Translations can provide court interpreters anywhere in the UK.
Contact us to discuss your requirements or use the form on the right to get your free, no-obligation quotation.