How can a translator avoid isolation in their home office?
Monday 08 June 2015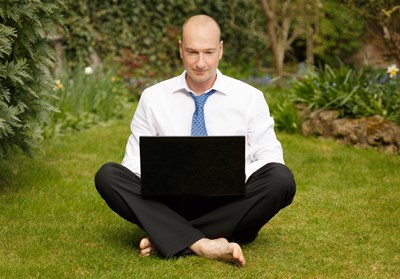 Translators often work alone from a home office. To compound the potential feeling of isolation theyalso tend to work unsociable hours due to having to liaise with clients around the globe at all times of the day and night.
To help avoid the feeling of isolation and demoralisation that can sometimes come with working from home, RL Translations has listed the following ten useful habits to make part of your regular work regime as a translator. These tips will help keep you motivated, focused and above all, make you feel part of the translation community.
Top 10 Ways to avoid Isolation in your Home Office
Schedule
Set up a work schedule and stick to it as closely as possible.

Be social
Try to organise regular social activities, playing sport is particularly good when in a sedentary job. One of the bonuses about being a freelance translator is that you can organise your workload to suit you and aren't necessarily confined to 9 – 5 office hours.

Network
There are various networking events available to meet fellow business people. Check out the Chambers of Commerce to find your local Chamber which will usually have networking events on in a morning, lunchtime and evening to suit the individual. A translator may also meet potential clients and you don't have to be a Chamber member to attend a lot of the events on offer.

Social networking
As well as the main ones such as Facebook and Twitter, there are several translator sites such as Proz.com and Translators' Cafe. Proz also runs Powwows which are organised translator meet-ups so check if there is one in your area. Other translator networks such as the Institute of Translation and Interpreting also organise conferences.

Interpreting
Think about also offering interpreting. Whilst a translator translates the written word, interpreting is spoken and interpreters therefore meet clients and often other interpreters if more than one interpreter is working on the same assignment.

Internet cafes
Try to work in a cafe or a library once in a while.

Office share
Consider an office share. Not only will this be cheaper than renting office space on your own but sharing an office will feel more social.

Online meetings
Skype or Facetime your meetings with long distance clients so that you get more interaction than just a phone call.

Phone calls
Making your work calls first thing in the morning will set you up for a day of productivity and build strong relationships with your clients. Get into the habit of just picking up the phone to speak with clients first thing. Once work calls are completed, you then won't feel guilty about calling friends and family.

Work outside
During the warmer months grab your laptop and mobile and head for the nearest park or picnic area. One of the biggest luxuries of having a home office is being able to move that office to anywhere you like – much better than being stuck at a desk all day.
For some great ideas and inspiration to help you get the most out of your home working role visit the Work From Home Wisdom blog by founder of Jelly networking.
Expert translators RL Translations can translate in any language in any subject. With almost a decade in the industry and a strong team of 1500 translators, contact us for a free quote with your translation enquiry.
Join our community on LinkedIn, Twitter and Facebook too.