Getting married abroad?
Thursday 01 May 2014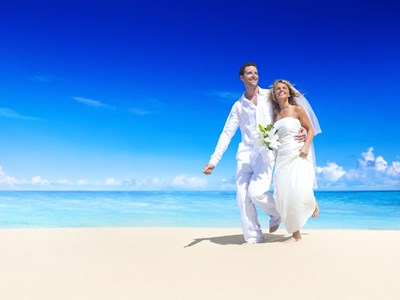 There are many things to plan for your wedding, even more so when you are getting married abroad. The number of guests to invite to an overseas wedding will invariably be different to one happening on your home ground. Flights, accommodation and luggage all have to be accounted for; how do you fit a bridal gown, morning suits and delicate headwear, footwear and jewellery into your luggage to ensure safe arrival?
Certain things shouldn't be left to chance, such as adequate insurance for all members of the bridal party and their luggage, along with ensuring all legal boxes are ticked to guarantee that your wedding ceremony is legally recognised in both destination and home locations. The last thing you want to discover is that the happy couple were only legally 'Mr & Mrs' at their beach wedding on the Isle of Zante!
As well as ensuring you have packed your passport and remembered the key legal documents ahead of your ceremony, many countries also require a legal translation of the following documentation:-
- single status statutory declaration
- certificate of no impediment
- decree absolute if divorced
- certification of death if widowed
The English documents and their translations may also need to be notarised by a notary public and/ or legalised by the UK Foreign Office.
Once you have honeymooned and you are back home, you may also need to arrange for a legal translation of your marriage certificate to enable you to change your name on your passport, driving licence and bank account. If you are applying for a visa, you may also require your marriage certificate translating in order to process this. If the translation of your marriage certificate is intended for use in the UK, the translation will usually need to be certified.
R L Translations can provide you with a certified translation of your marriage certificate which will be accepted by the Passport Office, the DVLA, banks, courts, embassies and other authorities in the UK and abroad. Get in touch for a free quote.
If you were married abroad we'd love to hear how it went, please share your comments below...